Why do we all love to shop?
"It's an experience!" said Linda Harman, proprietor of Steel Magnolia Marketplace. "There will always be the need of a place to gather and have a good time, to touch and feel, to feel part of a community."
Linda Harman is Gathered & Good's newest vendor. Originally from Tyler, she and her late husband worked in the oil and gas business. They retired to Lakeway in 2007. One of the things she missed most about Tyler was all of the unique southern type gift shops where everyone knows your name.
Living in Tyler and Lakeway, Linda was part of a group of friends that called themselves the Steel Magnolias, in tribute to the popular book and movie.
After the loss of her husband in 2017, she needed a happy distraction and a way to honor all the strong women girlfriends that helped her get through a difficult time. Steel Magnolia Marketplace gift boutique and its theme of strong women girlfriends was born.
After two years, Linda decided to spend more time in Fredericksburg, closer to her children Bryan and Christina Ray, and Mark and Pam Harman. After a little off time, she discovered she missed the excitement of going to market and "taking care of my customers."
So she started looking for a retailing partner in this Central Texas destination that would fit her brand.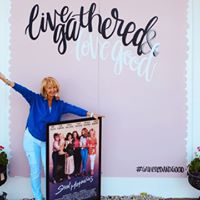 "I had branded it a certain way, so I didn't just want to stick it anywhere. So I kept praying about it, sending out letters. That's when Hannah replied, and Steel Magnolia Marketplace moved into Gathered & Good."
Linda describes her inventory as classic southern gifts, wedding and baby stationery, candles, bath and body items, and jewelry. All of it ties into quotes from the movie, or otherwise shows an "attitude" of independent, irreverent, amazing sisterhood.
As does Gathered & Good, Linda honors the woman entrepreneur and vendors who give back to the community.
"It's all about the back story to me. That's why I put up little signs–I want you to know more about the person each item came from."
While Linda's original goal had been to find a location on Main Street, she likes the benefits of the off-Main location on Hwy 87 South, where parking not a problem, and it is more conducive to serving both tourists and locals.
Her room is now open, and she invites her new "Steel Magnolias" to come by and be a part of this unique shopping experience. Linda's goal is to provide that fun, inclusive atmosphere to loyal customers for many years to come.
"Come see something new and different in Fredericksburg! It feels good and you'll love it!"